Carriage Hills is a brand new subdivision on Caldwell Road in West Monroe where you will find new and beautiful 3 bedroom 2 bath homes perfect for you and your family! Over 60 site build homes will be built to complete the Carriage Hills subdivision during two phases of construction. Currently, we are weeks away from completing phase one of construction which consists of the first 21 lots facing Caldwell Road.There are four different floor plans being used and are available to view by clicking on each of the links below. All floor plans come standard with interior features such as stained/scored concrete flooring, formica counter tops, black appliances, your choice of available color groups, and much more! Upgrade options are also available, choose your flooring, upgrade to stainless steel appliances, or granite in your kitchen! Check out our featured listings page to see completed Carriage Hills homes and check back with us as we update with new information and new pictures frequently!
Questions? Contact Hammett Real Estate Services at (318) 680-0006 or (318) 396-9896. You can give us your contact information by clicking on more at the top right of the task bar.Give us a brief description of what your interested in and a convenient time to call and we will contact you with in 24 hours.
Update: All phase one homes are sold! Phase two homes coming in 2016!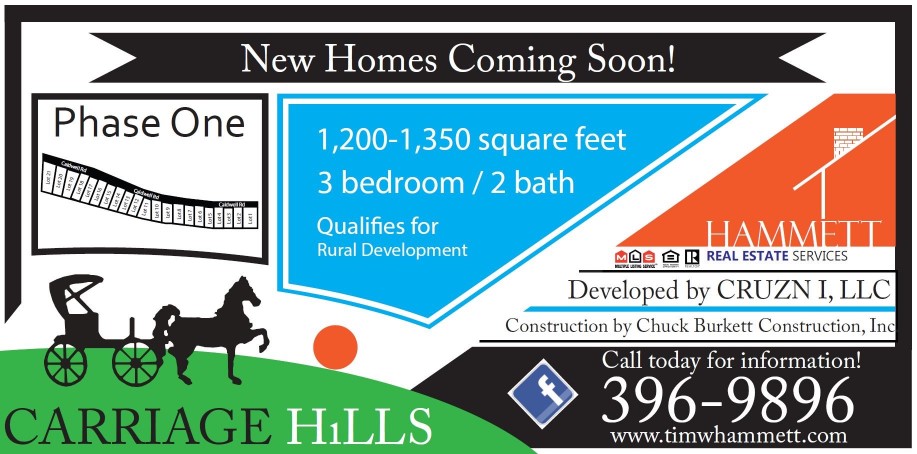 Click below to view floor plan 1 and details on pricing,interior features, and upgrade selections.
https://Floor Plan 1 Additional Information